File Upload Setup
Once this feature has been enabled in your account, under Application > Advanced > File Upload Settings, select the allowed file types that you will accept for uploading from registrants.
Executable files (.exe) should never be allowed.






Registrant File Upload
Registrants can upload documents, videos, and more when submitting forms.
Go to Registration Form in an event. Choose the New Registration Question option labeled Prompt registrant to attach files to their registration.
Choose file type options. You can set up separate questions for each type, or allow all types in one upload.

Registrant View
The process of uploading files is similar to email attachments. On the registration form, they will click Attach Files.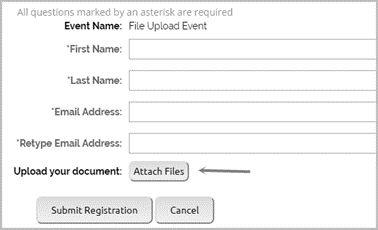 Registrants will see a screen like this when they upload files.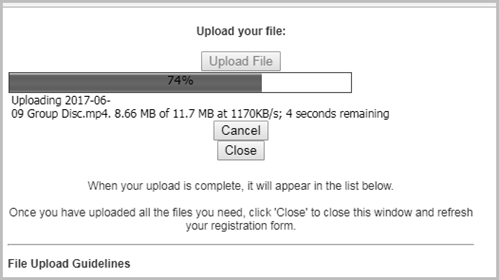 Once the file has been uploaded, the upload form will look like this. The registrant will be able to Remove a file if needed. The registrant will click Close when they are done uploading files.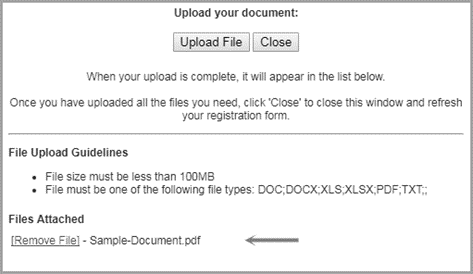 Registrants will see this message if failing to meet the minimum upload requirements.

If a registrant tries to upload a file that is too large, they will receive this message: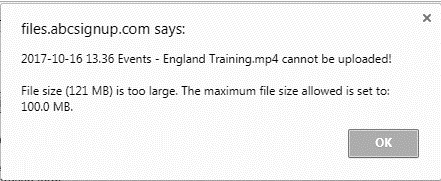 If a registrant tries to upload a type of file that is not allowed, it will first look like it is loading…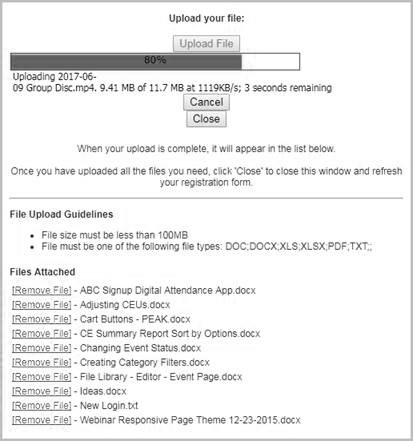 …but would end with a message, indicating that it was not a valid file type: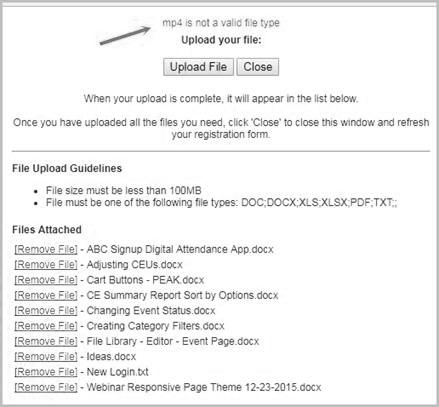 File Access
Uploaded files can be accessed administratively via individual registration forms.

They can also be managed via File Attachments icon on the Event menu.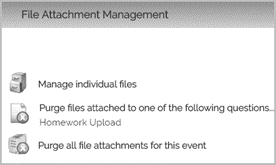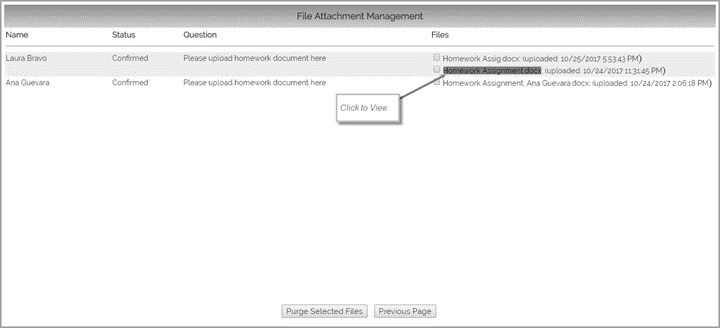 Click on the document title to view and download each file.

You can also Purge files.
Links to the files can be included in the Registrant Listing - Custom (1) and (2) exports in Reports.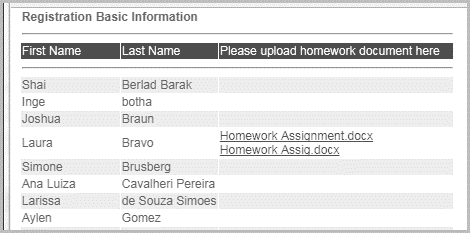 An account-level report is also available under account Reports > Registrations > File Attachment List
Document Storage Server
Learning Stream provides a dedicated server for the storage of uploaded registrant documents. Access to the documents stored in the file storage system is secured and limited to the Learning Stream software using various methods including encryption, IP restrictions, and other programmatic methods. The Learning Stream document solution is not recommended for the storage of materials that contain sensitive registrant information.